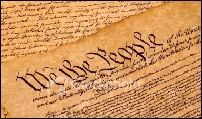 Search within NeptuneCafe

Custom Search

Demetra George

on asteroids

"Astrologers need the asteroids because the tradi-tional planets simply do not and cannot fully explain the issues which are emerging - simply because they are new."

"Before the use of asteroids, the only significators of the feminine in the traditional chart interpretation were the Moon and Venus. The socially acceptable roles for women were the Moon as mother and Venus as mate."

"Ceres, Pallas, June and Vesta represent the new voices of the dormant feminine, recently activated and now demanding power, recognition, justice, and equality in our society."

Richard Tarnas

on the cosmos

Astrology is not concretely predictive, but archetypally predictive."

"The modern dismissal of astrology reflects the virtually universal conviction that the cosmos is disenchanted."

"The universe is a fundamentally and irreducibly interconnected whole, informed by creative intelligence and pervaded by patterns of meaning and order that extend through every level, and that are expressed through a constant correspondence between astronomical events and human events."

Nicholas Campion

on national horoscopes

"Experiment with the charts. Make predictions. And yes, prediction remains a perfectly valid exercise: one successful prediction reveals more about the nature of the universe than a hundred retrospective studies."

" Just as the individual is contained within the collective, so natal astrology can be seen as contained within mundane astrology."

"The modern nation state is largely a creation of the French revolution and is becoming increasingly irrelevant as capitalism becomes global."


"The natal chart is like a seed and progressions are the unfolding in time of that into the plant it is to become. Transits, are like a daily weather report. In political astrology, these three factors have to be taken into account!"

Recent NewsScope columns

Nov. 1, 2010
- Election Day and the Scorpio Rising US chart, Silicon Valley, and Frank Sinatra, the Voice
November 8, 2010
- John Boehner's horoscope, Pluto and "Quantitative Easing", and actress Jill Clayburgh
November 15, 2010
- Pluto opposite the U.S. Jupiter, Teddy Roosevelt's gilded age, and Elizabeth Smart
Nov 22, 2010
- the U.S. Saturn Return, plus the Sarah Palin book tour, and Prince William and Kate
Nov. 29, 2010
- Kim Jong' un's horoscope, December's top five astro-events, and Mark Twain's autobiography
December 6, 2010
- Julian Assange's horoscope, Afghainistan's Hamid Karzai, and Tron star Olivia Wilde
Dec. 13, 2010
- Obama's tax cut deal, Ron Paul and the Fed, and besieged Italian PM Silvio Berlusconi
Dec. 20, 2010
- transits to the U.S. horoscope, Amelia Earhart's return, and Julian Assange's chart refined.

Jan. 3, 2011
lBrazil's Dilma Rousseff, super spy Anna Chapman, plus Kelsey Grammer's double Neptune
January 10, 2011
- looks at Gabrielle Giffords' Mars, China's new horoscope, and Rahm Emanuel's residency
January 17, 2011
-  Tuni-sia's social network, chess prodigy Hou Youfin,  David Arquette and Couteney Cox.
Jan. 24, 2011
-  Ophiuchus' delineation by the IAU, February's top five, Steve Jobs progressed New Moon
January 31, 2011
- Egypt's horoscope, Ophiuchus, the 13th constellation, Aretha Franklin, the Queen of Soul
February 7, 2011
- Hosni Mubarak's Neptune, the NFL horoscope, and the upcoming NFL lock-out.
Feb. 14, 2011
- Algeria's horoscope, the 2012 Uranus-Pluto square, plus Arianna Huffington and AOL
Feb. 21, 2011
- Bahrain and the U.S. Navy, March's top five, and Alan Turing and Artifical Intelligence in 2012
Feb. 28, 2011
- Gadhafi's horoscope, Ceres and its connection with unions, and what's eating Charlie Sheen.
April  2009 - Dec. 2010

at Neptune Cafe's

Reader feedback

Q. Throughout history,  exceptional, powerful men have had sexual dalliances.  These extraordinary man have, and will continue, to impact the lives of humanity.  Some of these men for naught, but many many for good. So what do these sexual dalliances say about them? And what does this say about us?  Are we more hypocritical … or less?  Are we more puritanical … or more sexually open? As always, you do a fantastic job!

re: Arizona - Many compliments on another great column. Thought: could the "fire" in Arizona's chart connect to the "firing," gun"fire," on Rep. Gabrielle Giffords and her constituents?

thx - Thanks for your wonderful column.  DSK post, and others, fascinating.

Q. - Tangential fun side questions:  Chelsey?  Pippa"!

Keep up your good work!

re: Federer - I just looked at Federer natal chart and couldn't believe that someone with this kind of fame and success is born with the Sun in house XII and doesn't even have one planet in house X!

A. Well, he is a Leo, and it's hard to keep a strong Leo out of the limelight. Notice that he has a formidable Jupitrer-Saturn in the 2nd house of money closely trine the MC. This helps build his career and promises financial security (wealth even) in the process.

re: Bin Laden's death -  Is Osama bin Laden's death on May 1 related to what you said in the April 27 NewsScope?:

"Astrologically, the U.S. is entering a phase of escalating military objectives. On May 1, the Moon, Mars and Jupiter conjoin to make a triple conjunction in the assertive sign of Aries, promoting adventurism, over-confidence and brash boldness. This rare combination is growing in power this week, and is especially significant in U.S. combat zones because it forms a close sextile to the U.S. Mars."

A: Yes, absolutely! It's a very favorable turn for the U.S. military, suggested by the triple conjunction sextile the U.S. Mars. The outer planet Eris is also there, so really it's a quadruple conjunction. They were transiting through the U.S. sixth house of military services.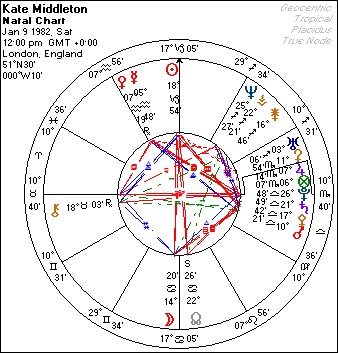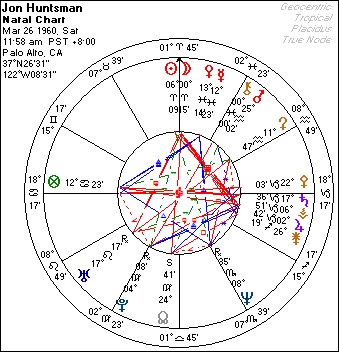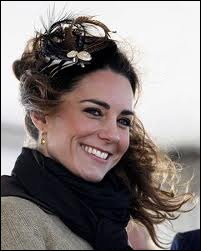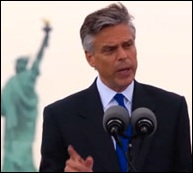 NewsScope for June 27, 2011

By Michael Wolfstar

Jon Huntsman's Lucky Stars

Last week Jon Huntsman announced his candidacy for president, using the same Statue of Liberty backdrop as Ronald Reagan did in 1980. While pundits offer little hope that he can emerge from the pack, astrologically, he's poised to leap forward in the GOP contest since his natal chart has numerous strong connections to the U.S. horoscope. Without such connections, a candidate can't make it on the national stage.

Huntsman was born during the New Moon in Aries (March 26, 1960; Palo Alto, CA; time unknown), which makes Mars his Sun sign's ruling planet. His Mars is located at 25º Aquarius, exactly conjunct the U.S. Moon at 25º Aquarius. Americans like politicians with Mars in this precise zodiacal degree – Ronald Reagan was elected when his progressed Mars was at 25º Aquarius, and both Jimmy Carter and George Bush (senior) have Mars at 25º Aquarius.

Huntsman's Neptune is found at 8º Scorpio, which happens to perfectly align with the U.S. Scorpio Ascendant. Barack Obama, though he was born over a year after Huntsman, has Neptune in the exact same location (with both Neptunes within 0º01' of conjoining the U.S. Ascendant). The candidate's Neptune provides the promise of hope for a better future, and increases his sensitivity to what the nation needs.

Huntsman's progressed Ceres is also at 25º Aquarius, while his progressed Sun and Mercury are at 25º Taurus. These are rare and auspicious alignments which bode well for his candidacy. His progressed Moon is currently in Aquarius and sometime over the coming year will conjoin his natal Mars and progressed Ceres. This triple conjunction – all aligned with the U.S. Moon - will likely vault him over his competition (the timing is unknown until we get accurate birth data). This is a candidate to watch.

July's Top Five Astro-Events

Kate Middleton Voyages

Across the Pond

Prince William and Kate will be gracing Canada and California with their presence from July 1-11, kicking off a royal visit that can be expected to be front page news for two solid weeks. Prince William's Sun-Moon conjunction in the 7th house of partners (June 21, 1982; 9:03 pm; London) indicates that he achieves personal fulfillment through partnership, which just arrived as his progressed Venus was conjunct his Sun.

Kate Middleton's solar chart* (January 9, 1982; London) tells us that she should make a huge impression during her travels. Like Princess Diana, Kate's chart features close connections to the U.S. horoscope. Her Jupiter in Scorpio is conjunct the U.S. Ascendant, and her Neptune is sextile the U.S. Moon, which can create elevated feelings of euphoria and transcendence. And her Moon in Cancer close to the U.S. Sun generates mutual interest.

Donna Cunningham notes: "Astrologer, Marc Penfield, who was one of Lois Rodden's most dedicated and meticulous data collectors, reported that he heard from someone in England who'd seen the birth record. It said January 9th, 1982 at 11:33 PM, Reading, England." However, according to NewsScope's Oxford astrologer Christina, "In England, there's no birth time recorded on the birth certificate."

Kate's Venus in Aquarius is well aspected, so that she personifies the best qualities of the liberated, independent woman. Venus trine Mars gives her sex appeal, while the square to Jupiter and octile to Neptune enhance her sense of fashion and natural beauty. Since her Venus is conjunct the U.S. North Node and squares the U.S. Scorpio Ascendant, she should be welcomed as a celebrity who secures traditional alliances with style and grace.

Kate's arrival during the Solar Eclipse on Princess Diana's birthday is bound to create comparisons between the two. In contrast to Di's frailty, Kate's Capricorn Sun square Saturn builds strong character over time, while striving to impress others with competence, stability, and order. Transiting Jupiter will be squaring her Mercury during her journey, indicating that she will be much quoted and discussed.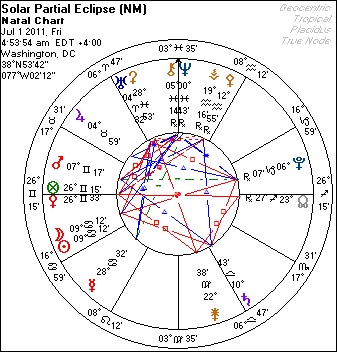 1. The Solar Eclipse on July 1 is part of a tension-filled Cardinal Grand Cross involving Saturn, Pluto and Uranus. Taking place in the security-oriented sign of Cancer, this action-oriented event promises historic developments in many nations over the coming month. Revolutionary programs compete with traditional approaches to shape core institutions. Expect more than one national leader to fall in July.

2. Uranus turns retrograde on July 9th in the militant sign of Aries, likely sparking demonstrations and violent confrontations in the Middle East. Venus squaring Uranus on the 7th indicates disruptions in alliances on the personal, business, and national levels. Celebrity break-ups should be prominently featured in the news, and other notable collapses - both metaphorically and physically - can be expected from the 6th through 10th.

3. Jupiter trine Pluto on July 7th, and in effect from the 1st through 10th, bodes well for the effective management or deployment of large sums of money. Expect solid profits and huge business deals from corporate America. Individuals with planets in the first decanate (the first ten degrees) of the earth signs are especially favored. Since Pluto is simultaneously opposing the U.S. Jupiter, look for some headway in managing the huge federal deficit.

4. Mars enters geopolitically critical degrees from the 21st through 25th, promising a whirlwind of activity on

military fronts, and perhaps a disaster or two from Mother Nature. The U.S. Mars Return, Mars transiting over the South Node, and Mars activating last month's Lunar Eclipse bring spectacular endings and new beginnings in Libya and other global hotspots. Watch out for accidents, fires, and incendiary rhetoric.

5. The Sun enters Leo on the 23rd while trine Ceres in Aries. This astro-event, in effect from the 21st – 24th, is important because Ceres is turning retrograde, so that the proud Leo Sun illuminates the need for individuals to be more independent and autonomous. The same theme can be seen in nation-building. The Sun-Ceres harmonious connection provides for spontaneous creativity and random acts of kindness, and is especially favorable for environmental movements.

* Despite a widely reported time of 11:33 pm, Kate Middleton's actual birth time is unknown. see note below