NewsScope archives

from October 1999

through March 2009 can

be found at the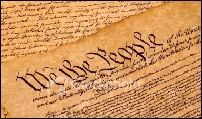 Advertise on NeptuneCafe.

Recent NewsScope columns at NeptuneCafe:

April 6, 2009
- Michelle and the Queen, Pluto Threatens NewsScope, Gilles and Cheryl of DWTS
April 13, 2009
- Economic Interdependence, North Korea's Mars, Twitter the Social Networker
April 20, 2009
- Mexico's Narco-Traffickers, an empowered EPA, and Susan Boyle
April 27, 2009
- Torture memos, Top Five Astro-Events for May, and Susan Boyle's makeover
May 4, 2009
- Joseph Luter III, Hygeian, the Goddess of health, and American Idol Adam Lambert
May 11, 2009
- the Fed's stress tests, Pakistan Pres. Zardari, and spunky Miss California Carrie Prejean
May 18, 2009
- The New Foundation, automakers and the U.S. Mars, and A-Team Tom Hanks and Ron Howard
May 25, 2009
- June's Top Five Astro-Events, Neptune and Marijuana, and the Eye of Medusa and Lucy Gordon
June 1, 2009
- North Korea tests the world, Sonio Sotomayor, and Conan O'Brien on the Tonight Show
June 8, 2009
- Netan-yahu's Mars, Ted Kennedy's Last Cause, and David Carradine's suicide
Search within NeptuneCafe

Custom Search

inevitably come up. Her Moon in earthy Capricorn forms a harmonious sextile to her Venus, adding an erotic tenderness and charm.

Mercury, the natural ruler of words, is in Sagittarius, where it gives her an interest in the philosophy behind word origins. Mercury is grounded by a sextile to studious Saturn, while the trine to her North Node in Leo makes Mercury the agent of her talent. Transiting Saturn is heading into the third and final square to her Sun, which has the effect of consolidating her self-created image with business deals and increased media appearances.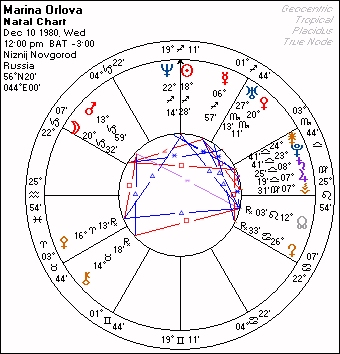 Marina Orlova, YouTube Guru

Voted the #1 Sexiest Geek of the Year by Wired magazine and the #1 YouTube guru by Cosmopolitan, Marina Orlova is the best of a new breed, the internet celebrity. Her YouTube channel "hotforwords" has received over 12 million views and currently has some 222,000 subscribers. She's become popular by flirtatiously expounding on word origins while scantily dressed, and confirming that intelligence is sexy.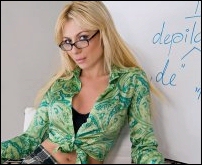 Marina Orlova was born with her Sun in trendy Sagittarius (December 10, 1980; Niznij Novgorod, Russia; time unknown) and conjunct Neptune, giving her a natural interest in film, fantasy and mysticism. The closest aspect her Sun makes is an empowering trine to Pallas in the pioneering sign of Aries, which adds tremendous originality, cleverness and courage, and offers her the opportunity to create her own unique identity.

Marina's Venus is in sexy Scorpio where it's electrified by a conjunction with Uranus. Venus-Uranus here enjoys experimenting with relationships, and believes in freedom and liberty – jealousy and possessiveness are a definite "turn off". Yet with her Mars in Capricorn and square Saturn, control issues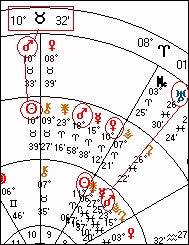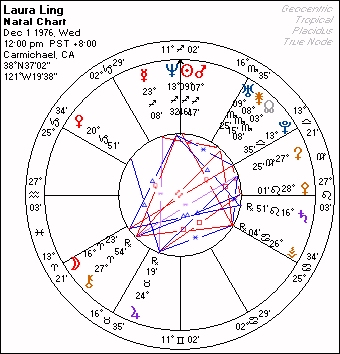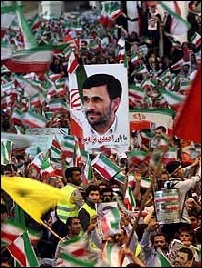 NewsScope for June 15, 2009

by Michael Wolfstar

Iran's Shaking Foundations

Saturday, the day after Iran's intensely fought presidential election, Iran's supreme leader, the Ayatollah Khamenei, called Ahmadinejad's re-election a "divine assessment". Pro-Mousavi supporters took to the streets and contested the decision, while Mir Hossein Mousavi declared that the election result "is nothing but shaking the pillars of the Islamic Republic of Iran's sacred system and governance of lie and dictatorship."

Iran's horoscope
(April 1, 1979; 3:00 pm; Tehran) closely reflects these stunning current events and tells us what's coming. Although transiting Uranus is conjunct Iran's Mercury-Mars conjunction, and transiting Mars is conjunct Iran's Midheaven, these celestial markers don't tell the whole story of the intensely fought campaign over the last two weeks, or why this election was so important: Iran's progressed chart supplies the missing details.
Iran's progressed Sun, describing the evolving leadership, is now exactly conjunct Iran's Midheaven. Here we have the definition of a landmark election. The bitterness and anger over the last two weeks is reflected in the fact that Iran's progressed Sun is also exactly octile (45º) natal Mars. Transiting Mars over the weekend was conjunct Iran's progressed Sun, activating the underlying complex, which also signified the deployment of riot police to restore order.

Iran's progressed Mars has been in opposition to Pluto, which relates to Iran's push to develop nuclear weapons. However, the next aspect progressed Mars makes is a quincunx to Uranus in the 4th house, which Mousavi himself best interpreted as a shaking of the foundations. This aspect is growing in influence over the next two years, and may be anticipated by or shaped by a growing feminist movement since progressed Venus is nearly conjunct Iran's Sun.

This tri-wheel section features Iran's horoscope on the inner wheel, progressions in the middle ring, and transits in the outer.

Laura Ling, International Pawn

Following their detention on March 17 by North Korean military intelligence, journalists Laura Ling and Euna Lee were found guilty last week of illegally entering the country and sentenced to twelve years of hard labor. Of the two, Laura Ling was the one known as an intrepid reporter with a penchant for dangerous assignments. Her goal was to film North Korean refugees along the Chinese border.

Her Saturn at 16º Leo is exactly conjunct the U.S. Midheaven, while her Juno-Uranus conjunction at 8º-9º Scorpio sits right on the U.S. Ascendant.

Also, her Sun opposes the U.S. Uranus and is conjunct Antares, a bright red star associated with military affairs. It's this connection which puts her at the center of the current military crisis between the U.S. and North Korea. As previously described, the U.S. Uranus is now being activated by the progressed Moon (exact June 27). Because Laura has an ulcer and needs medical attention, her case is undoubtedly under urgent diplomatic review.

Laura Ling's horoscope (December 1, 1976; Carmichael, CA; time unknown) shows an unusually aggressive style, with her Sagittarius Sun conjunct Mars and her Moon in trailblazing Aries. Her Sun is also conjunct Neptune, giving her an interest in film as well as empathy for victims. The Aries Moon opposes Pluto, a difficult combination that is drawn to oppressive situations and often attracts powerful enemies.

Laura Ling and Euna Lee are being held as bargaining chips in the game of geopolitics, as North Korea attempts to fend off international criticism over its recent nuclear test. Laura's chart has important links to the U.S. horoscope, showing how she has found herself in such a position.