NewsScope archives

from October 1999

through March 2009 can

be found at the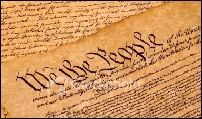 Advertise on NeptuneCafe.

Recent NewsScope columns at NeptuneCafe:

April 6, 2009
- Michelle and the Queen, Pluto Threatens NewsScope, Gilles and Cheryl of DWTS
April 13, 2009
- Economic Interdependence, North Korea's Mars, Twitter the Social Networker
April 20, 2009
- Mexico's Narco-Traffickers, an empowered EPA, and Susan Boyle
April 27, 2009
- Torture memos, Top Five Astro-Events for May, and Susan Boyle's makeover
May 4, 2009
- Joseph Luter III, Hygeian, the Goddess of health, and American Idol Adam Lambert
May 11, 2009
- the Fed's stress tests, Pakistan Pres. Zardari, and spunky Miss California Carrie Prejean
May 18, 2009
- The New Foundation, automakers and the U.S. Mars, and A-Team Tom Hanks and Ron Howard
Search within NeptuneCafe

Custom Search
Lucy Gordon and The Eye of Medusa

On May 20, actress Lucy Gordon committed suicide by hanging herself in her Paris apartment. Initial reports indicated that the Spider-Man 3 star had been despondent over the recent suicide of her childhood friend. Then, on May 23 the former president of South Korea, Roh Moo-hyun, committed suicide by jumping off a cliff. He had been under investigation for accepting a $6 million bribe.

This pair of celebrity suicides confirms the negative influence of Algol, the "Eye of Medusa" star located at 26º Taurus. Last week, Mercury retrograded over Algol while squaring Jupiter, Chiron and Neptune at 26º Aquarius. Roh Moo-hyun (August 6, 1946) has his natal Venus at 26º Virgo and most likely his Moon is at 26º Scorpio, so that both are in line with the transits around Algol.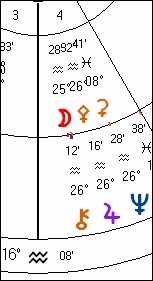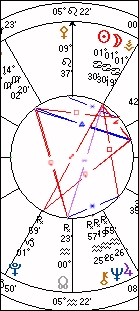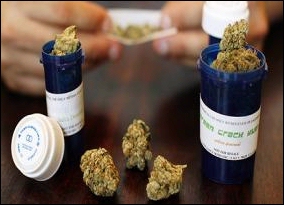 NewsScope for May 25, 2009

by Michael Wolfstar

Top Five Astro-Events for June

1. Mercury squares the Jupiter-Chiron-Neptune triple conjunction from June 7th to the 10th , providing a communications channel into the social-networking groups. This is a good time to connect with others and find ways of working and playing together. Since Mercury is conjunct the evil star Algol, be careful not to lose your head in a bout of irrational thinking.

2. The Sun squares Uranus on the 17th, and since Uranus is conjunct Juno at the same time, this marks a phase (from the 15th to 18th) when committed, long-term relationships are tested. Solid partnerships will do fine, with perhaps a change in routine sparking renewed friendship. Otherwise, expect sudden developments to challenge expectations and habitual responses.

3. Venus chases Mars through Taurus, catching him on the 20th, making the entire month of June an exceptionally favorable time for romance and sharing time with loved ones. This highly sensual combination favors gardening, massage, fine dining, and shopping for quality clothes. Trines to Pluto, Ceres and Saturn provide practical outlets for taking care of business.

4. The New Moon on the 22nd is extraordinarily intense due to the exact opposition to Pluto. Major life transformations may be experienced by many, especially involving family affairs and career changes. Illness, marriage, and/or relocation may be in the picture. In the business world, watch for a big move from the Fed, plus mergers, new products, and bankruptcies.

5. The U.S. progressed Moon squares Uranus on the 27th, implying an accelerated news cycle with historic developments toward the end of June. The stressful activation of Uranus (which opposes the red star Antares) indicates a crisis atmosphere, likely involving Pakistan and Afghanistan, or other hotspot where U.S. military technology plays an important role.

Neptune and the

Marijuana Movement

As the economic crisis grows, trendsetting California is slipping toward chaos, unable to pay for its most basic social programs. A potential solution was offered last month, one that would legalize marijuana and allow the state to tax its sale. As proponents note, marijuana is California's largest cash crop with some $14 billion in annual sales, and taxing it would bring in a much-needed $1.3 billion.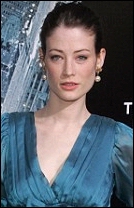 Lucy Gordon (May 22, 1980; Oxford, UK; time unknown) seemed to be a bright, outgoing and successful actress, as her Gemini Sun square Jupiter might indicate. However, her Venus in Cancer was being opposed by transiting Pluto. She was living with her boyfriend, and they apparently had a tiff on the day she committed suicide. The Pluto-to-Venus vibe indicates jealousy and romantic triangles.

Her otherwise charmed natal horoscope has a major problem area, which is Uranus squaring the South Node. In general, this combination can bring sudden crises or events that completely shock the system. In Lucy's case, this dynamic was also aligned with Algol, tempting her with the most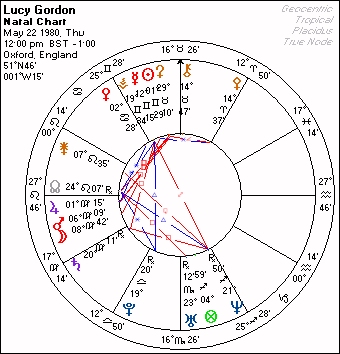 Neptune, the natural ruler of drugs, recently arrived on the U.S. Moon, inspiring a national movement toward legalizing marijuana. If we think of the U.S. Moon as representing consumers and their freedom to make their own choices, then Neptune here activates public interest in smoking marijuana, if they choose to do so. And many states and municipalities across the nation are moving in this direction.

Since Neptune is accompanied by Chiron – associated with wounding and healing – much of the legislation is couched in terms of its alleged health benefits. Opponents* are decrying the health costs that legalizing marijuana would bring, including increased risk of traffic accidents and illnesses similar to those caused by smoking tobacco. Neptune and Chiron together represent the health profile (Chiron) of marijuana (Neptune).

President Obama's appointment of Gil Kerlikowske (b. Nov. 23, 1949) as the nation's drug czar indicates a softening government position, since the former Seattle police chief made marijuana raids a low priority. He took office on May 9, as liberal-thinking Jupiter joined Neptune and Chiron on the U.S. Moon. With Jupiter hovering in this degree area for the rest of 2009, it's likely that the marijuana movement will continue to grow, especially as the financial benefits (Jupiter) are more clearly defined.

radical, permanent solution to her temporary problem. Mercury retrograded across Algol (while squaring Neptune) at the moment she hung herself, reflecting the disillusionment and hopelessness she must have felt.