... NeptuneCafe presents ...

the astrology of glitz and glamour in ABC's new hit

Check out what astrological factors help make the celebrities become audience favoraites in ballroom dancing.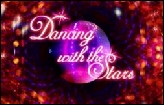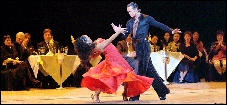 Brooke Burke, DWTS Winner?

NewsScope; October 14, 2008; Although former NFL tackle Warren Sapp moves extraordinarily well for a 300-pounder, model Brooke Burke and her professional partner Derek Hough are the clear frontrunners in this season's Dancing with the Stars. Volleyball champ Misty-May Treaner had a chance, but she tore her achilles tendon while practicing the jive, and now she's out. Does Brooke have what it takes to win?

She was born with a Sun-Venus conjunction in Virgo (September 8, 1971; Hartford, CT; time unknown), a cosmic blessing that has bestowed her with stunning beauty, and provided her with work as a model, TV host (Wild On!), and pin-up for the men's magazines. As the mother of four, she's also managed to keep herself in good shape, as befits the health-conscious Virgo.

Many models have competed on DWTS, but none have done very well. Brooke is the exception, and she can thank her well-placed Mars for giving her the physical strength needed for the difficult moves. Her Mars in Aquarius is quincunx her Sun, giving her plenty of physical energy and a competitive edge. Her Mars is enhanced by a trine to exciting Uranus and another trine to lasting, disciplined Saturn.

According to the astrological prerequisites for winning DWTS***, Brooke is very likely to take the glitzy glass trophy. Transiting Saturn in Virgo is running over her Sun-Venus, which gives her the discipline to make it to the final round. However, transiting Uranus is opposing her Venus in late November, when she may have an unexpected fall or other mishap. It all depends on how well she can balance the innovative (Uranus) with the expectations (Saturn).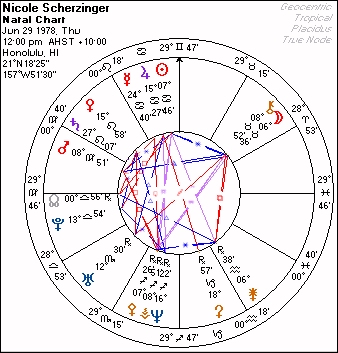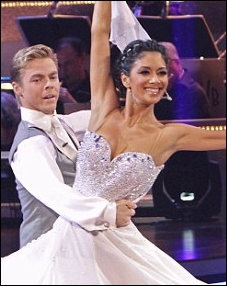 Nicole Scherzinger

Tops DWTS Leader Board

With a cast of fascinating celebrities competing on DWTS' tenth season, last week's premiere soared to the top of primetime TV ratings. Pamela Anderson did well enough with a sexy cha-cha, but both reality star mom Kate Gosselin and astronaut Buzz Aldrin looked clunky. Nicole Scherzinger, best

Ms. Scherzinger has most of the qualities needed* to win the coveted mirror-ball trophy. Her Sun forms a tight sextile to Mars in technically accurate Virgo, giving her the physical energy and vitality to endure the training. Her Taurus Moon (why do all the winners have their Sun or Moon in Taurus?) adds a sense of calm and grace – even while performing intensely intricate maneuvers.

And the timing couldn't be better: Nicole's progressed Mars in late Virgo is being tested by transiting Saturn, which will be exact at the show's final curtain. This aspect implies the hard work and discipline needed to overcome and shine. However, transiting Uranus will oppose her progressed Mars, indicating that upsets along the way are likely, and possibly a serious challenger.

known as the Pussycat Dolls' lead singer, scored two nines to secure an impressive early lead.

Nicole Scherzinger was born with a flamboyant Sun-Jupiter conjunction in imaginative Cancer (June 29, 1978; Honolulu, Hawaii; time unknown), a lucky combination that is enhanced with artistic creativity by the trine to Uranus, plus a need to dominate rivals by the square to Pluto. Nicole's Venus in royal Leo aspects the three outer planets, giving her a fashion sense that captures the archetypal aura of a goddess.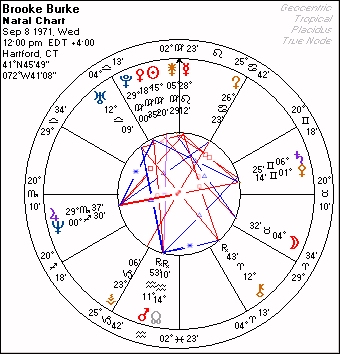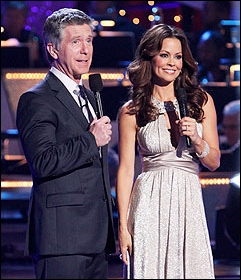 Before she was the dazzling co-host of DWTS, Brooke Burke became Season 7's winner on November 25, 2008, as forecast six weeks earlier in NewsScope

Is there a way to predict who will win the Dancing With the Stars competition? the show's premier on June 1, 2005 (5:00 pm; Los Angeles, CA) could be used as the birth moment for the U.S. version of Dancing with the Stars.  


Also on this page is a NewsScope commentary on Season 6 winner Kristi Yamaguchi, plus extended discussions of the three judges Grand Trine.