NeptuneCafe presents

Pallas Profiles.2

Pallas in action: how Pallas works in the real world, illustrated with a celebrity profile for the signs Libra through Pisces. When Pallas is activated, life-enhancing insights are possible.

Here's six famous Pallas personalites, as excerpted from the article in Dell Horoscope magazine: Doris Day, Bruce Lee, Pablo Picasso, Hedy Lamarr, David Bowie, and Athina Onassis Roussel.

mother died in 1988, Athina and her vast inheritance came under the control of her French father, Thierry Roussel.

With Pallas conjunct Venus and Mars, Athina had an idealized relationship with her father. However, at 17, when Athina's progressed Pallas was conjunct Mars, she left her father to attend riding school in Belgium where she met her future husband, Alvaro de Miranda Neto. From that point on, the father-daughter relationship changed dramatically. Note that Pallas is also square Uranus in the 2nd house of money.

Her father had seized control of her inheritance since she had given him power of attorney. In October 2004, her lawyers met with her father's lawyers to reclaim control of her inheritance. Transiting Pluto squaring her natal Pallas reflected the psychological anguish over fighting about money with her father. However, her progressed Pallas and Saturn were exactly trine, and she successfully completed the deal.

in the world". Her Moon-Neptune opposes the earthy Pallas in Capricorn, giving her a shrewd understanding of show business.

Pallas is enhanced by a sextile to Mars in Scorpio, which gave her a boldness in life and in her films. In 1937, she made a daring escape from her controlling husband, an Austrian arms manufacturer who disapproved of her acting career. By 1941, while she was making some of her best films, she submitted an invention for a secret communication system, for which a patent was issued on August 11, 1942.

While her frequency-hopping device was ahead of its time, it's the basis for today's digital communications, as in smart phones and wifi networks. At the time she was issued the patent, her progressed Mars and Pallas were octile (orb 0º11'), showing how her creative intelligence was put into use to design a torpedo that couldn't be jammed by the Nazis.

Pallas in Pisces sees through the material world to grasp reality via imagination, visions, and fantasies. Under stress, one can put too much emphasis on the dream world and lose connections with what's real and what's not. Favorable aspects give a rich spiritual life, perhaps as an enlightened warrior. Talent in the arts is often present, specially when grounded by Saturn or earth placements.

Pallas in Capricorn tends to be a strong supporter of the patriarchal social order, and fosters a talent for being materially and professionally successful. Stressful aspects can indicate a gold-digger or someone who uses others for their own selfish interests. Favorable aspects indicate a high degree of competence, management ability, and an ability to manifest visions into practical forms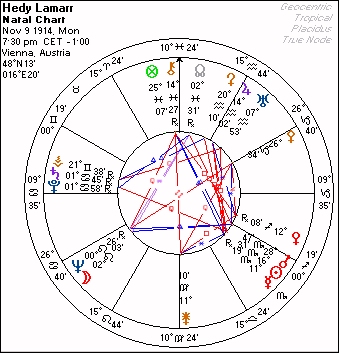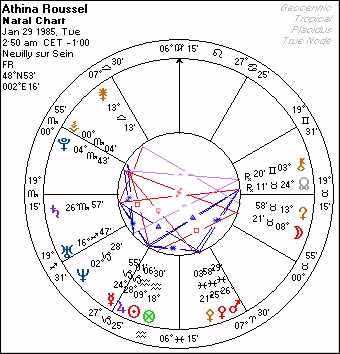 Hedy Lamarr (November 9, 1914; 7:30 pm; Vienna, Austria) was born with an ethereal Moon-Neptune conjunction in regal Leo. Since these two planets rule her Ascendant and Midheaven, they shaped her as one of Hollywood's most glamorous actors in the 1930s and 1940s, where she was often billed as "the most beautiful woman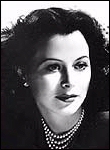 Athina Onassis Roussel (January 29, 1985; 2:50 am; Neuilly sur Seine, France) was born with Pallas in Pisces where it forms a close trine to her Scorpio Ascendant. Naturally, her Greek mother (the daughter of shipping tycoon Aristotle Onassis) named her after Greece's most famous goddess, Athena. After her



Pallas in Libra promotes social awareness and fairness or balance between opposing principles or parties. Under stressful aspects, one may lose perspective of personal needs, or fall into patterns of being too nice; or, one becomes excessively cold to others in favor of the psyche's other needs. Favorable aspects enhance all social interactions, fashion sense, and artistic tendencies.

Pallas in Scorpio excels at penetrating to the core essence, of seeing to the root cause of problems or issues. Under challenging aspects, this position can become obsessive or compulsive about sexuality, secrets, underworld affairs, and psychological complexes. Favorable aspects enhance Pallas's perception and ability to transform physical and mental health, and optimize resources.

Pallas in Sagittarius perceives larger concepts  and can apply them to everyday life. This placement suggests an ability to understand the meaning of experiences and principles, and seeks to express them creatively. Under stress, watch out for self-righteousness and hypocrisy, while favorable aspects produce teachers and sages, and facilitate understanding of cultural, ethnic and religious influences.

Pallas in Aquarius knows how to solve problems using unusual or unexpected perspectives. Stressful aspects can indicate keen insights, that when expressed, shake up the status quo. Favorable aspects enhance one's ability to see into the future and be a trendsetter. Pallas here is good with technology and anything that's new, offbeat or revolutionary.

Doris Day (April 3, 1922; 4:30 pm; Cincinnati, OH) was born with her Aries Sun opposite Jupiter and in a Fire Grand Trine with Neptune and Mars, which bestows talent, self-confidence and showmanship. Her Pallas in charming Libra is placed in the first house, but conjoins Saturn and squares Pluto, making life tougher than her cheery persona might suggest.

Day began her career singing for some of the top bandleaders in the 1940s, when she tried to balance her career with marriage. In her later years, she described how her first three husbands abused her. Here we can see some of the early problems of the emerging feminine consciousness: Pallas is smart and talented, while the conventions of that time (Saturn) suggested she should be a submissive (Pluto) housewife.

Day gave up on marriage and became the top-ranking female box office star of all time. With the overly-structured presence of Saturn on her Pallas, she stuck to the formula of playing the sweet, virginal types. She wrote her autobiography in 1975 when her progressed New Moon was in the 9th house of publishing while forming a tight trine to her Pallas. Her revelations about her abusive husbands shocked her fans.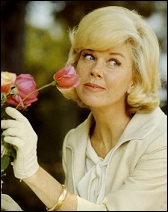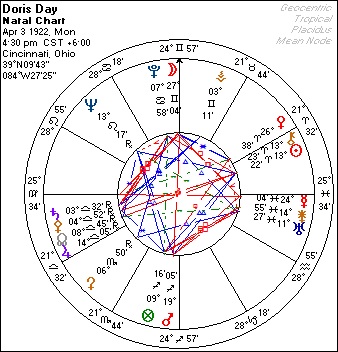 Martial arts icon Bruce Lee (Nov. 27, 1940; 7:12 am; San Francisco, CA) was born with his Sun in philosophical Sagittarius. His Mars in Scorpio squares Pluto, a combination often associated with fanatical will

power, physical strength, and revenge. In this case, Lee's Mars is modified by a conjunction with Pallas, which applies creative intelligence to an otherwise instinctual, brutal fighter.

Bruce Lee trained obsessively to become the fastest, smartest, strongest warrior possible. Using Pallas' innovative perceptions, he invented his own style, which he called Jeet Kun Do.  Pallas turned his Mars in a water sign into a pearl of wisdom: "Be formless, shapeless, like water. Now you put water into a cup, it becomes the cup. Now water can flow or creep or drip or crash!"

Until a legendary match with Wong Jack Man in the winter of 1964, Bruce Lee used a traditional way of fighting. Afterwards, when he didn't perform so well, he began his disciplined training and invented his own, more loose style. That eventually brought him to the attention of film producers and worldwide fame. At the time of the 1964 fight, Lee's progressed Jupiter was exactly opposite his Pallas, bringing him an insight that changed his life.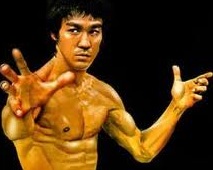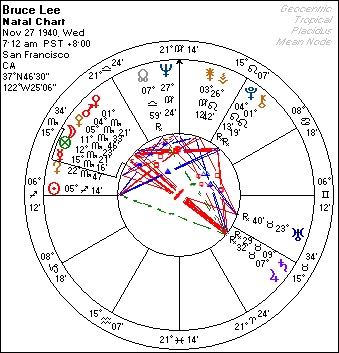 Pablo Picasso (October 25, 1881; 11:15 pm; Malaga, Spain) was born with his Scorpio Sun octile (45º) Uranus on one side and Pallas on the other. His intense personality is thus most shaped by the need to express his independent, radical ideas (Uranus) but in a way that promotes his insights into cultural evolution (Pallas in Sagittarius).

Pallas in the 5th house of artistic creativity squares Uranus, giving us the astrological formula for inventing an unusual form of art. Picasso went through several phases when his style changed dramatically, but the most important one was the invention of cubism. In this revolutionary innovation, Picasso analyzed the parts of his subject, and then juxtaposed them in a two-dimensional array – completely abandoning traditional perspective techniques.

His 1907 painting Les Demoiselles d'Avignon is widely accepted as an original conception point. He had recently visited a collection of African tribal art, which shaped his vision. At the time, he was experiencing a progressed New Moon opposite natal Pluto, reflecting the fundamental transformation of his life and his painting style. Simultaneously, his progressed Pallas and Ascendant were perfectly trine, facilitating the beginning of the cubism movement and his controversial rising star.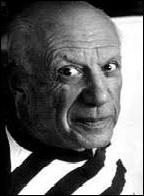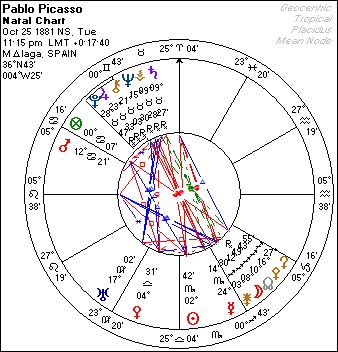 Rocker, music producer and film star David Bowie (January 8, 1947; 9:15 am; Brixham, England) was born with Pallas conjucnt his Aquarius Ascendant, making him a clear messenger for this archetype. Pallas sextiles Venus at the Midheaven, a combination giving him a strategic advantage in expressing his

artistic inclinations. Pallas also opposes the Moon-Saturn-Pluto conjunction in Leo, a facet of his psyche that attempts to stabilize an otherwise very fluid persona.

How this has worked out in the British rocker's life is that periodically he morphs into a new stage personality. He first became an international star with the June 1972 appearance of his androgynous persona named Ziggy Stardust. He toured the U.S. with his three-piece band known as The Spiders from Mars, and began producing albums for other famous rockers of that era.

At the time of this radical make-over, transiting Neptune and Pluto were both favorably aspecting his Pallas, with transiting Neptune right on his Midheaven. By secondary progression, Bowie's Pallas was exactly trine his North Node. Unfortunately for all his gender-bending, glam fans, Bowie's Sun-Mars conjunction in the 12th house indicates that he's a closet heterosexual, though with the quincunx to Uranus, he enjoys experimenting.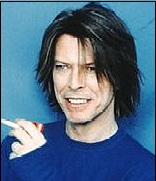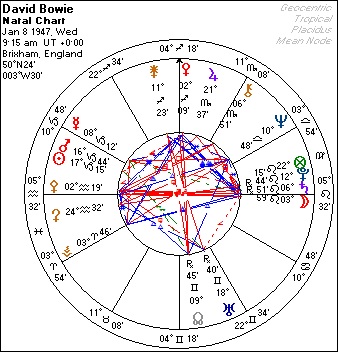 Part One
- charts how Pallas has changed the lives of six celebrities, arranged as Aries through Virgo.
Pallas
- introduction, Pallas and the outer planets,  Pallas in Political Astrology, and Henry Kissinger and Caroline Kennedy
In her ancient myths, Pallas was highly skilled in a number of areas, including as a warrior, artisan, inventor, strategist, healer and diplomat. Her primary function was to uphold the patriarchal order using her creative intelligence, wisdom, and ability to visualize. A prominent Pallas often describes a very busy person, one who is constantly looking for avenues of creative expression. This is especially true when Pallas aspects the Sun or Mars, or forms hard aspects to the outer planets.

Pallas' house position describes what areas of life she can apply her creative intelligence. Aspects to other planets and asteroids may enhance or conflict with her creativity. Pallas tends to make women more masculine and men more feminine. This can manifest in either sex as problematic regarding sexual identity or as a more balanced psyche without the over-identification with the sexual body.

Pallas by sign describes twelve styles of creative expression. The signs filter her reality by shaping what Pallas sees or perceives. Below are descriptions of Pallas in the twelve signs accompanied by a celebrity profile. Pallas by transit generally moves too fast to mark major life passages, but Pallas by secondary progression or other planets progressing to Pallas often marks significant turning points, especially in one's professional life and relationship patterns.

"For the past twenty years or so, Pallas Athena has been one of the most dramatically visible archetypes emerging into Western consciousness."

- Ariel Guttman, Mythic Astrology